Bankruptcy Lawyer: 10 Expert Tips on How to Find One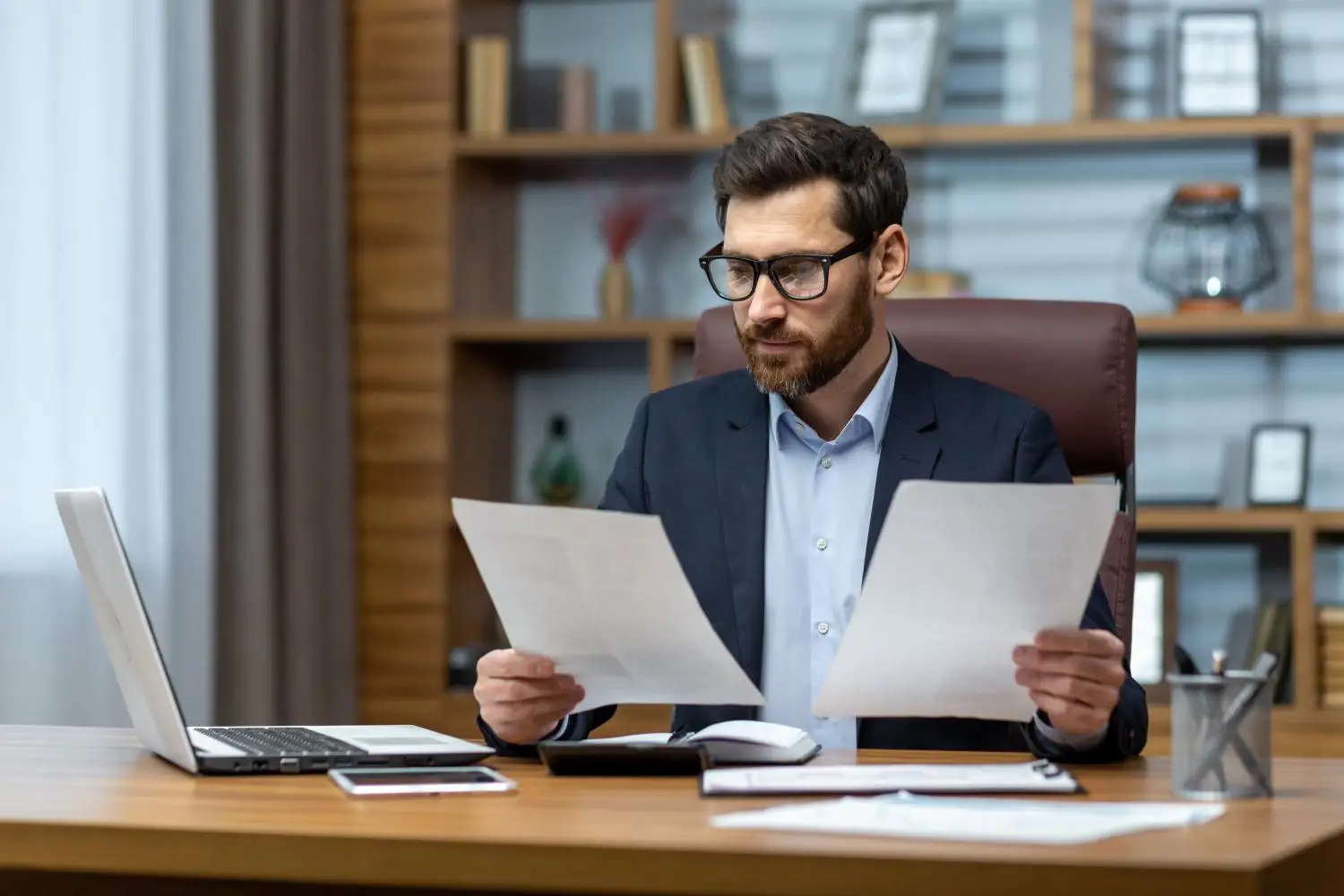 9 MIN READ
Published September 17, 2023 | Updated September 18, 2023
Expert Verified
Bankruptcy can be a confusing and complex process. Your bankruptcy lawyer can act as your advocate and guide you through the process. Take the time to research for lawyers in your area and know what to look for in one so you can file for bankruptcy successfully.
Some of the most important things to keep in mind when hiring a lawyer are expertise, credentials, open communications, and a fair price. Ask family or friends for referrals or find a lawyer in your area through the National Association of Consumer Bankruptcy Attorneys.
What Does a Bankruptcy Lawyer Do?
A bankruptcy lawyer can give you legal advice about bankruptcy, help you with legal documents, and represent you in court. They can be your advocate and provide you advice on matters like:
Whether bankruptcy is the right option for you
Which type of bankruptcy to file
How the process works
What type of debts can be eliminated or reduced
How bankruptcy may impact your assets
Which forms you'll need to complete to file
How Can a Bankruptcy Lawyer Help You
While working with a lawyer for bankruptcy is not a legal requirement, it's important to remember that a simple error or missed legal filing can have long-term repercussions for your financial future. In some cases, it can even result in the dismissal of your case.
A bankruptcy lawyer can help you in a number of ways, such as helping you decide between Chapter 7 vs. Chapter 13 bankruptcy, tax considerations, whether you'll be able to retain your assets, how you should handle debt collectors, and more. If you are a small business owner and have a lot of business debt, a lawyer may even recommend filing for Chapter 11 bankruptcy for debt reorganization. An attorney can also help you determine if you'll qualify for bankruptcy and give you more information about alternatives if you don't.
Most importantly, a bankruptcy lawyer can make the process as stress-free as possible at a time when you are bound to have a lot of financial stress.
Reasons You Should Get a Bankruptcy Lawyer
If you are struggling with debt, bankruptcy can seem like the best way to resolve the situation. But bankruptcy should be your last option, and a bankruptcy lawyer can help you determine if another debt relief option may be better for your situation. Here are a few more reasons you should get a bankruptcy lawyer:
A lawyer can guide you through the complex process of bankruptcy.
An attorney-client relationship will ensure that anything you discuss with them will remain private.
They can be an advocate and someone who'll ensure you are treated right.
They can provide you with advice about whether you should file for bankruptcy and which type of bankruptcy you should file for.
They can provide you with guidance on assets. Your lawyer will determine which exemptions you may qualify for when you are filing for Chapter 7 bankruptcy.
They can complete all the paperwork needed to file the bankruptcy petition.
They can represent you at the meeting of creditors.
How to Find a Bankruptcy Lawyer Near You and File for Bankruptcy
Filing bankruptcy is a major decision and one which you shouldn't make lightly. Finding a competent bankruptcy lawyer that you'll be comfortable working with is an equally important decision. Here's a detailed guide on how to find a bankruptcy attorney near you and how to file for bankruptcy successfully with their help.
1. Understand Your Bankruptcy Needs
Before you start your search for an attorney, it's important to understand your needs. Have a clear idea about what you hope to achieve through bankruptcy and what type of bankruptcy you plan to file for. This will help you narrow down your search and look for lawyers specializing in your specific case type. For example, if you have a lot of credit card debt, medical bills, and other unsecured debts, bankruptcy may help you resolve it. But bankruptcy cannot help you eliminate student loans, tax debt, child support, or alimony.
2. Research and Compare Lawyers
If you decide to hire a bankruptcy lawyer, it's important to research and compare multiple options. Look for testimonials and reviews from previous clients, check their experience, service offered, and specialization, and ensure they offer services in your location. Here are a few ways to find lawyers near you:
Ask coworkers, friends, or family for recommendations
Get in touch with a lawyer referral service
Check with your local or state bar association
Search for bankruptcy lawyers in your area on the National Association of Consumer Bankruptcy Attorneys website
3. Check Lawyer Credentials
Ensure that the lawyer you are considering is licensed and in good standing with the state bar association. Ask them if they have any specialized background or training. Lawyers with a bankruptcy certification from the American Board of Certification have a deep knowledge of the U.S. bankruptcy code and bankruptcy law. Another good sign is if the lawyer is affiliated with the NACBA.
Additionally, you should also ask them about their experience. Ask them how many Chapter 7 and Chapter 13 bankruptcy cases they've handled in the past. A good lawyer will also discuss bankruptcy alternatives with clients, such as debt settlement, debt consolidation, and credit counseling.
4. Schedule a Consultation
Schedule a free consultation with a law office or bankruptcy lawyer. Your initial consultation will allow you to ask any questions you may have, get legal insights into your case, talk about attorney fees, and assess their communication style to see if you'll be comfortable working with them. Since you'll be working with your lawyer closely for several months, it's crucial to pick a lawyer who is empathetic, patient, and who is willing to answer your questions.
Lawyer fees vary widely depending on your location, the complexity of your case, and the type of bankruptcy you are filing for. Generally, you can expect to pay anything from $750 to $4,500. Many bankruptcy lawyers also offer payment plans, so you don't have to make the payment in full at once. If you're filing for Chapter 13, you may be able to pay a portion of the fee before filing and the rest during your repayment period. For Chapter 7, you'll usually have to pay the lawyer fees before you file.
If you can't afford lawyer fees, there are legal aid offices that provide free legal advice to clients with low income. Additionally, some lawyers dedicate a certain number of hours to pro bono cases, so it may be worth looking for a lawyer who offers that service.
6. Understand the Consequences and Benefits of Bankruptcy
Make sure you understand the pros and cons of filing for bankruptcy before you decide to go ahead with it. Ask questions to understand the consequences and understand how bankruptcy may impact different areas of your life. When you file for bankruptcy, your credit score will be damaged. It will stay on your credit report for as long as ten years and may make it difficult for you to qualify for new credit. Bankruptcy may also make it difficult for you to get a job or rent an apartment, so it's important to weigh the pros and cons to determine if it's the right option for you.
7. Follow Your Lawyer's Advice
Once you finalize a lawyer and begin the process of filing bankruptcy, it's important to follow the guidance and advice they provide. This will ensure the best possible outcome for your case. Provide documents and information promptly when your lawyer requests so you can meet court deadlines. Take responsibility for your bankruptcy case. Your lawyer can help you through the process, but they can't file the bankruptcy for you.
8. Communicate Openly and Honestly
Open and honest communication is the key to a successful bankruptcy case. If you don't feel comfortable sharing information or if you keep secrets, your lawyer will not be able to assess your situation properly. Your bankruptcy lawyer will work to ensure you get the best possible outcome for your situation. This may involve several hard conversations, but open communication can help. This is one of the reasons why it's important to avoid bankruptcy mills that won't be able to give your case the time and attention needed.
9. Attend Meetings and Hearings
It's important for you to attend all the required meetings and hearings to ensure the success of your bankruptcy case. You'll need to attend a 341 meeting or a meeting with creditors, which is usually the only formal proceeding in most bankruptcy cases. Attending it will show the court and bankruptcy trustee that you are serious about the case, which will help speed up the process.
10. Follow Through on Your Obligations
Once the court reviews your bankruptcy petition, you'll need to follow through on any requirements or obligations needed for your case. For example, if you're filing Chapter 13, you must start making the monthly payments as per the approved repayment plan. You will only receive a bankruptcy discharge when you successfully make all the payments. There may be other obligations that you need to follow, such as attending a credit counseling course and a debtor's education course before the court orders a discharge for your case so you can get a fresh start. If you fail to complete any of these mandatory requirements, the bankruptcy court may close your case.
The Bottom Line on Hiring a Bankruptcy Lawyer
There are many ways to find a reliable and experienced bankruptcy attorney to represent you. Get a referral from someone you know, or look into other resources like your state bar association, professional lawyer referral services, or legal aid. Regardless of which resources you use to find a bankruptcy law firm, it's important to do your homework and ensure that the lawyer you hire is experienced with the bankruptcy process, qualified, and easy to communicate with.