How to Rent an Apartment with a Poor Credit History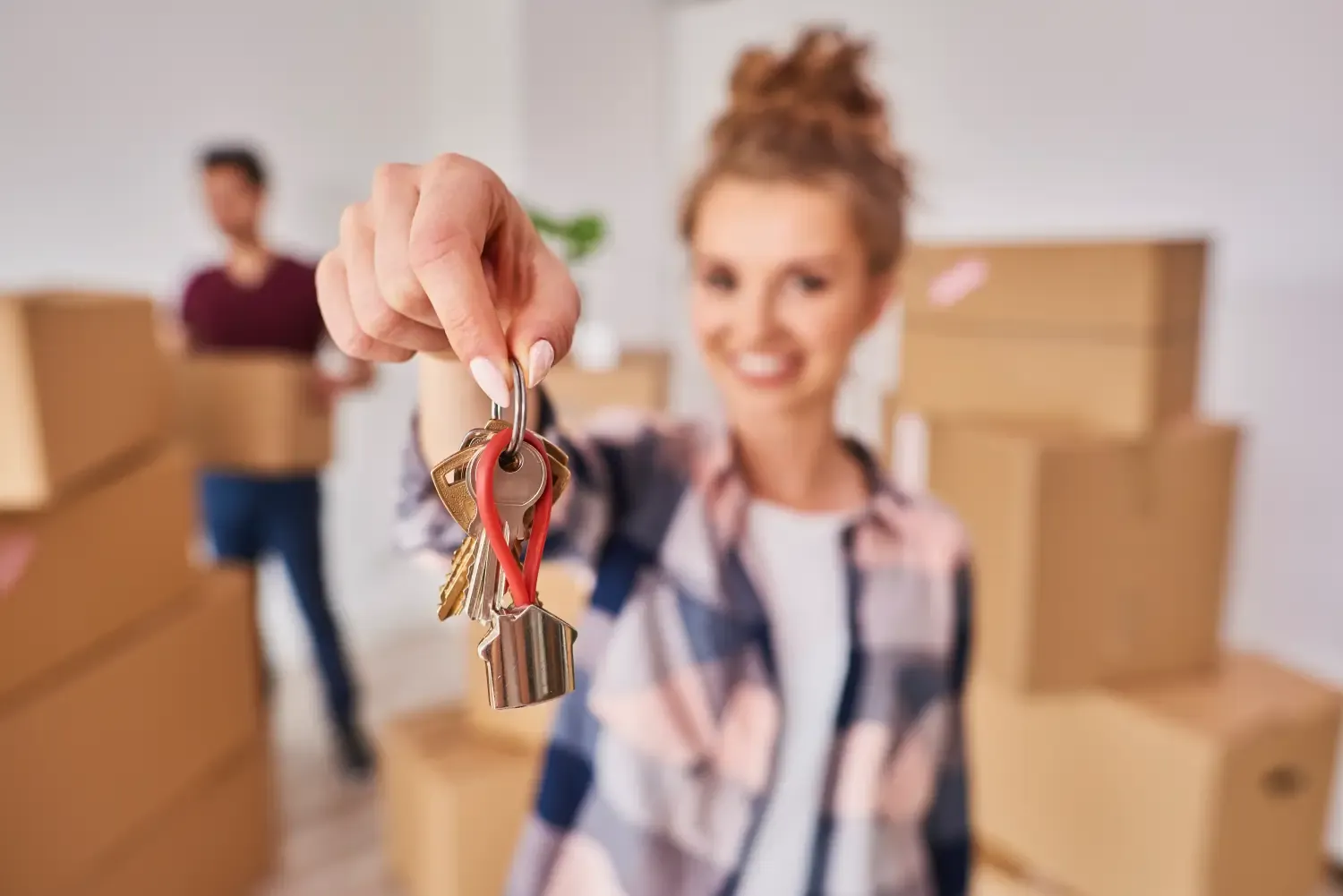 8 MIN READ
Published August 21, 2023 | Updated September 26, 2023
Expert Verified
It may be challenging to rent an apartment if you have a credit score below 620. But there are several ways to work around your situation, by finding a guarantor or cosigner, getting a roommate, and seeking help from a housing counselor.
When you rent an apartment, you'll need to prove your ability to afford the rent. You'll also need a good credit score. Your credit score shows your landlord if you are trustworthy when it comes to financial transactions, such as paying your bills on time.
The higher your credit score, the better your chances of getting approved for an apartment rental. But this doesn't mean you can't rent an apartment with poor credit or no credit history. Read on to learn more about your options for renting an apartment with bad credit.
Options for Renting an Apartment with Bad Credit
It's possible to rent an apartment even if you have bad credit. But you'll need to be strategic and find ways to show how you are a strong applicant, despite your credit history.
Finding Apartments that Accept Applicants with Poor Credit
If you're having a hard time finding a rental because of your credit score, you may want to look for a different kind of landlord. Some landlords may be more lenient and may not check your credit score.
You might have more wiggle room if you work with a private landlord who owns an investment property and handles applications independently. If you prove that you have a reliable source of income and have recommendations, they may be willing to rent their apartment to you.
Subletting or Renting a Room
Another option is to rent a room in a shared apartment. Ask friends and family if they know someone who is subletting their apartment or needs a roommate. With this option, you might be able to secure an apartment without worrying about your credit score. Make sure you have an agreement in place and work out the details in advance before you agree with this arrangement.
Find a Cosigner, Guarantor, or Roommate
If a family member or friend is willing to cosign your lease, it may help you get an apartment. Make sure they have a good credit score, and they understand what they're getting into. If you default on your rent, your cosigner or guarantor will also be accountable for it.
A guarantor can vouch for you to your landlord, but they cannot live in the apartment you rent. Another option is to apply for an apartment with a roommate who has a good credit score. When you have a roommate, you'll also be able to save an average of $517 per month, so it's a financially wise option.
Improving Your Credit Score
There are a number of factors that impact your credit score and may hurt your odds of rental approvals. If you have a history of bankruptcy, foreclosure, eviction, or late payments, your landlord may not consider you a strong applicant.
Other negative credit habits that may hurt your credit score are defaulting on loans, repossessions, or a high debt-to-income ratio. All of this shows your landlord that you may have a problem fulfilling your financial obligations.
Steps to Improve Your Credit Score
If you have a few months on hand before you need to rent an apartment, focus on ways to improve your credit score, as listed below:
Pay all your bills on time. Your payment history is one of the most important factors in improving your credit score.
Pay off your debts. Whether you have personal loans, student loans, auto loans, or credit card debt, look for ways to pay down as much of your debt as possible to bring down your credit utilization.
Check your credit report to see if there are any inaccuracies. Getting these inaccuracies fixed can raise your score.
Legal Rights and Protections for Tenants
Regardless of your credit score, you need to abide by the terms listed in your rental agreement. You are also protected against unlawful landlord practices by local, state, and federal laws. Know your rights as a tenant so you are aware of what a landlord can and cannot do.
Whether or not you have a good credit history, your rights are always non-negotiable as a tenant. The Fair Housing Act protects your basic tenant rights such as discrimination-free process, a habitable home, privacy, and a safe and healthy living environment.
Overcoming Bad Credit When Renting an Apartment
Other than improving your credit score, there are several other resources and options available for overcoming bad credit when renting an apartment.
Resources for Renting an Apartment
If you are unable to find suitable housing on your own, consider working with a housing counselor. Credit counseling agencies throughout the country can offer you advice on credit issues, foreclosures, renting, and buying a home. Housing counselors approved by the U.S. Department of Housing and Urban Development offer free or low-cost advice.
Affordable Apartment Rentals
There are a variety of resources and housing programs to explore for renters in the U.S. The HUD operates most of these programs for those with low or moderate income. You can find local Public Housing Agencies and connect with them to see if you are eligible for affordable rentals through one of these programs.
Owners of rental properties and apartment complexes receiving subsidies also offer affordable apartment rentals to those with low income. You can find properties enrolled in the subsidy program on the HUD website.
5 Tips for Renting an Apartment with Bad Credit
When renting an apartment with bad credit, there are several things you can do to improve your chances of getting approved for that lease. Here are five of our top tips to follow.
1. Bring the Right Documents
Your credit score is an important part of your renter profile, but there are several other factors that are important, such as your rental history and income. Submit documents that highlight that you have a stable income and a good tenant. Submit proof of your rental history, such as payment proof for rent and bank statements.
If you have letters of recommendation from previous landlords, they can help your profile. You may also want to come prepared with employment and pay stubs to show your prospective landlord that you have a reliable source of income. You can also submit utility payment proof to show that you are consistent, reliable, and dependable. Bring all of these documents with you to make up for the lower credit score.
Be upfront and honest about your credit history with the landlord. Whether your credit scores suffered because of financial hardship or because of illness, let your landlord know about it. Tell them about the steps you are taking to improve your credit score, as this may increase your chances of approval.
3. Provide Proof of Income
An effective way to balance the scales in your favor is by providing an accurate picture of your employment history and monthly income. If you can show that you'll be able to afford to pay the rent each month easily, the landlord may be willing to overlook your credit score.
Bring pay stubs going back a few months to show that you have a steady and reliable source of income.
"Renting with bad credit is challenging," says Teresa Dodson, debt expert and founder of Greenbacks Consulting." She offers further advice for renters struggling with a low credit score. "Just be prepared to provide extra deposit money and letters of recommendation from prior landlords. Those two things can help you secure a rental."
If you can pay a higher security deposit for an apartment, it might give your landlord a sense of security. Consider saving up two months' rent before you apply for the apartment. In the unlikely event that you aren't able to pay the rent, your landlord will have funds in place to cover the costs.
If you have rented before and can get a former landlord to write a reference letter, it may convince a property manager or potential landlord to overlook your credit report. A lower credit score doesn't automatically mean you won't pay your rent. If you can demonstrate this through references, it may work in your favor. Offer proof of your rental history along with the reference. A history of paying rent on time shows that you are a good tenant.
Some landlords may be willing to look at more than just your credit scores when reviewing your rental application. It's always a good idea to get a copy of your credit report from all three major credit bureaus- Equifax, TransUnion, and Experian, and find ways to improve your score before you apply. Look for apartments that accept bad credit scores, find a cosigner, or pay a higher deposit to improve your chances of approval.